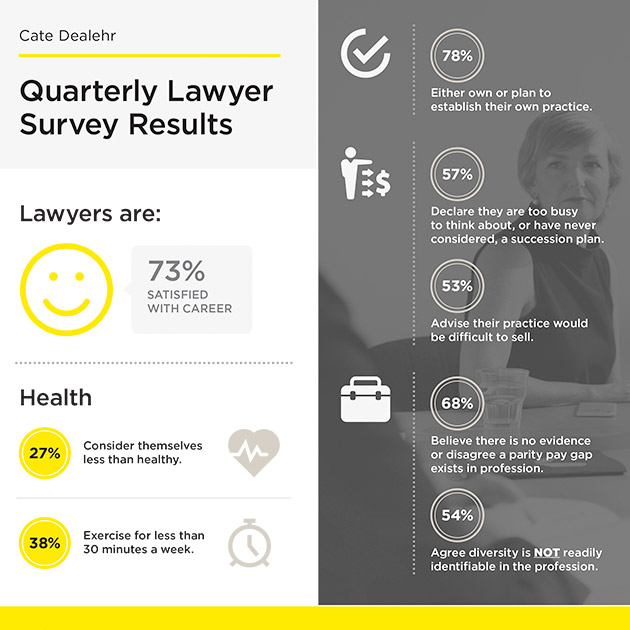 6 June 2019
Survey finds lawyers love their work, but some struggle with business and personal challenges.
Cate Dealehr, principal of ALCG and board member of the Victorian Legal Services Board, has released her quarterly lawyer feedback survey and points to some interesting results.
The survey indicates lawyers remain concerned about the high cost of access to the law for clients.
Other concerns lawyers worry about include the transition to new technology (57%), yet only 8% consider rapidly advancing blockchain technology a concern.
"Without question, blockchain technology will gradually reshape the way business is transacted and it becomes a significant issue for lawyers, although it remains unclear how," said Cate Dealehr. "But this should not be a reason for lawyers to ignore this new technology."
Over 50% of lawyers consider regulation compliance to be a burden and Cate's response was, "Whilst we must speak up against unnecessary intervention from the Board and the Commissioner's office, it remains incumbent upon us all to ensure accountability and standards are maintained."
Other interesting survey results include:
Lawyers claim (57%) they do not have the time or never considered succession planning and 53% believe they would struggle to sell their practice yet, some 78% either own or have an aspiration to own their own practice.
Only a little over 70% of lawyers considered themselves healthy and 38% reported they exercise less than 30 minutes each week.
Conversely, and quite paradoxically, lawyers (73%) claim they are satisfied with their career choice.
Further reading on Blockchain technology: London based Raconteur Media published a recent article setting out some issues for the legal profession to consider with blockchain technology access it HERE.